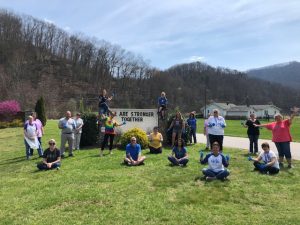 Good Afternoon Jonathan Valley Families:
Thank you for all you are doing at home to support your children emotionally and educationally.  We have enjoyed seeing some of you at the bus stops in the mornings, in the car line food pick up, and the work pick up line too.
Your child's teachers and teacher assistants are checking in with you weekly.  Some of our teacher assistants and Title 1 teachers may also be checking in with our JV families too.  Please make sure your 3rd – 5th grade student has signed up for Google Classroom if you checked out a Chromebook.  This is the primary mode of remote learning for our 3rd – 5th graders.  If your child has picked up a two week work packet, make sure they are doing a little each day.  Your teacher may be asking for you to send pictures of your child's work through Remind / See Saw / Dojo.   However take time each day to get outside, play, and enjoy time as a family.
Please reach out to our teachers if you have questions, concerns, or just for your child to have contact with them.  We miss our JV students greatly.
Remember, we will have work pick up again Monday, March 30th, from 10:00-1:00.  Work pick up is for all Pre-K through 2nd grade , and any 3rd through 5th grade student that has not signed up for the online Google Classroom.  At this time work packets will not be turned in.  Please hold onto all of your student's completed work.  We will communicate when and how work should be turned in as soon as more guidance is given to us.
I would also like to give a shout out to our teachers, teacher assistants, cafeteria workers, custodians, and our office staff for their tremendous team work at Jonathan Valley.  It has truly been amazing!
See our JV website and the HCS website for updates and resources.  Please call the school with any questions you may have.
We are stronger together at Jonathan Valley.